The Ultimate POCSAG decoder
This is a Post Office Code Standardization Advisory Group (POCSAG) protocol decoder that currently runs on Linux and FreeBSD.
It features:
Soundcard input via OSS (usually /dev/dsp).

Server mode: One instance of the decoder can serve audio and raw POCSAG streams to other instances of the decoder connecting as clients.

Telnet server.

Logging of raw POCSAG codewords to disk.

Error highlighting.

Noise smoothing (reduces error rate when input signal is weak and/or noisy).

Statistics logging.

Displaying of raw POCSAG codewords.

Filtering based on keywords, RIC, and function bits.

It has the ability to log decoded messages to:
Console

Disk

MySQL

IRC

Windows machines (popup using the messenger service).

Telnet server

E-mail

External applications

This project originally began as a Perl script in January of 2008 when I realized that there were no working POCSAG decoders for Linux, and I badly wanted one.
It has since been rewritten and improved to this C version. Please read the documentation carefully before attempting to use it.
Download
pocsag-1.03d.tar.gz (107 kB) Changelog
License
This program is licensed under the GNU General Public License (GPL).
Contact
Send all feedback to upocsag@s-lab.se
Screenshots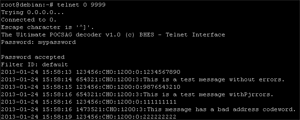 Error highlighting and displaying of raw POCSAG codewords

Last updated: April 27, 2018.